Newsletter 3.10.13
News
Releases out this week include Abba, The Visitors, Arrival, Voulez-Vouz LPs (Universal), Aerosmith Live In Japan, Johnny Winter Roots 2 (Sony Japan), Cannibal Corpse Kill 25th Anniversary picture disc LP (Metal Blade), Les Paul & Mary Ford Shows May & June 1950, Artie Shaw The Complete Rhythm Makers Sessions 1,2,3 6CD, Tommy Dorsey Saturday Afternoon At The Meadowbank 1940, Not So Quiet Please, Glenn Miller Flying Home, How Sweet You Are, Heaven Can Wait, On The Sentimental Side, Simple & Sweet, Live 1943-44, Moon Dreams, From Rags To Riches, Time Alone Will Tell, Count Basie At Birdland, Benny Goodman Magic Carpet Selections, Art Blakey Live In The 1950s, Woody Herman Heard With Friends (Jazzband), Billie Holiday Music For Touching/Velvet Mood (Poll Winners), Original Album Classics 5CDs from John Williams, Wynton Marsalis, The Classic Christmas Album sets from Barbara Streisand, Johnny Cash (Sony), Carmen McRae Take Five/Live At Sugar Hill (American Jazz Class), Bonnie Raitt Now And Then (Red Wing), Cannibal Corpse Tube Of Resinated (Seasons Of Mist), Roger McGuinn LP (Music On Vinyl), Edith Piaf The Legend 5CD (Wagram), Butthole Surfers Hairway to Steven, Rembrandt Pussyhorse LPs (Latino Bugger Veil), Cabaret Voltaire Red Mecca LP (US Mute), Gerry Mulligan/Chet Baker Carnegie Concert 1&2 (US Speakers Corner).
Paul Simon's Over The Bridge Of Time is US-issued 15 October, followed on 22 October by Linkin Park's Hybrid Theory LP via US Warners, Spandau Ballet's True via US Rhino, and The Black Crowes/Jimmy Page Live At The Greek 3LP, via US Orchard. Bad Religion's Christmas Songs is out 28 October.
Trace Adkins' The King's Gift is US-issued 29 October, as is ex-Live's Ed Kowalczyk's The Flood And The Mercy, Santana's Greatest Hits is out via US Friday Music, Buddy Guy's This Is The Beginning and Mick Gilley/Willie Nelson's Texas Troubadours are out via US Fuel, John Coltrane's Live At The Half Note, Traneing In is out via US AAO, and US Real Gone Music issues Andy WilliamsThe Complete Christmas Recordings, Bobby Darin The 25th Day Of December With, Patti Page Christmas With, The New Christy Minstrels The Complete Columbia Christmas Recordings.
Tours
Panic At The Disco November (17) Nottingham Rock City (18) Edinburgh Picturehouse (20) Manchester Academy (21) London Kentish Town Forum.
Rocket From The Crypt December (1) Manchester Gorilla (4) Leeds Brudenell Social Club (6) London Camden Koko.
Zappa Plays Zappa perform Roxy & Elsehwere in November at (11) London Shepherd's Bush O2 Empire (12) Bristol Colston Hall (13) Leeds Grand Theatre (15) Liverpool Philharmonic Hall (16) Cambridge Corn Exchange (18) Glasgow Royal Concert Hall (19) Coventry Warwick Arts Centre (20) Manchester Bridgewater Hall.
Cate Le Bon November (27) London Shepherd's Bush Bush Hall (29) Cardigan River's Edge.
Blancmange November (3) Clitheroe Grand (4-5) Darwen Library (6) Manchester Soundcontrol (8) Newcastle Think Tank (9) Southampton Brook (10) Brighton Concorde 2 (11) Wolverhampton Bilston Robin (12) Nottingham Rescue Rooms (13) Liverpool Eric's (14) Wakefield Hop (15) London Islington Garage (16) Cardiff Ifor Bach.
Alison Moyet October(4) Glasgow Royal Concert Hall (5) Edinburgh Usher Hall (6) Gateshead Sage (8) Sheffield City Hall (9) Rhyl Pavilion (10) Coventry Warwick Arts Centre (12) Northampton Derngate (13) Ipswich Regent (15) London Royal Festival Hall (16) Cambridge Corn Exchange (17) Folkestone Leas Cliff Hall (19) Bristol Colston Hall (20) Cardiff St David's Hall (21) Brighton Dome (23) York Barbican (24) Salford Lowry (25) Liverpool Philharmonic Hall (27) Nottingham Royal Centre (28) Birmingham Symphony Hall (29) Southend Cliffs Pavilion (31) Bournemouth Pavilion Theatre April 2014 (3) London Royal Albert Hall.
Lloyd Cole October (17) London Islington Union Chapel (18) Worcester Huntingdon Halls (20) Dundee Gardyne Theater (21,23) Glasgow Oran Mor (24) Stockton ARC (25) Manchester Sale Waterside (26) Cambridge Junction (28) Leeds City Varieties (29) Nottingham Glee Club (30) Stamford Corn Exchange (31) Wolverhampton Wulfrun Hall November (4) Bath Komedia (5) St Helens Citadel.
Tinie Tempah December (2) Aberdeen AECC (5) Manchester Phones 4U Arena (6) Leeds First Direct Arena (8) Nottingham Capital FM Arena (9) Glasgow Hydro (11) Newcastle Metro Radio Arena (12) Liverpool Echo Arena (13) Cardiff Motorpoint Arena (15) Bournemouth BIC (16) Birmingham LG Arena (19) London Greenwich O2 Arena.
Kodaline March 2014 (15) Belfast Ulster Hall (18) Glasgow Barrowlands (19) Manchester Academy (20) Birmingham O2 Academy (21) London Brixton O2 Academy.
The Godfathers October (31) Nottingham Rock City November (1) Doncaster Leopard (2) Bristol Thunderbolt (7) Manchester Ruby Lounge (8) York Duchess (10) Glasgow King Tut's Wah Wah Hut (27) London Camden Underworld (28) Brighton Haunt December (5) Manchester Academy (6) London Brixton O2 Academy.
Threshold's Damian Wilson September (21) Mullion Old Inn (25) London 12 Bar Club London (26) Leicester Musician (27) High Wycombe Arts Centre October (16) Rainford Junction (17) Bolton Bromley Cross Railway (18) Macclesfield Swan (19) Bury Flying Shuttle (20) Ormskirk Shoppe Inn.
Haim December (4) Norwich UEA (5) Birmingham HMV Institute (6) Leeds Metropolitan University (8) Manchester Ritz (9) London Kentish Town HMV Forum (12) Glasgow ABC.
The London International Ska Festival runs 17-20 April 2014, including Derrick Morgan, Junior Murvin, Ken Parker, Pama International, The Specials' Roddy Radiation.
Annie Mac November (8) Manchester Warehouse Project (12) Sheffield Foundry Studio Fusion (16) Birmingham Institute (22) Edinburgh Picture House (23) Bristol In Motion (29) Leeds O2 Academy.
Television November (15) Gateshead Sage (17) Manchester Academy (19) London Camden Roundhouse.
Barb JungrOctober (10) Edinburgh Le Monde (11) Glasgow City Halls (12) Greenock Beacon Arts Centre.
Lives
Katmen
London Borderline
4/9/13
View: sitting, front-left
The Katmen Cometh! proclaims the band's new album, and come they did, to assault the Borderline with a relentless bombardment of high-energy, heads-down rockabilly. With the metronomic backing of Al Gare's (largely upright) bass, and Slim Jim Phantom's (even more upright) drumming, Darrell Higham unleashed an overwhelming tsunami of tunes from both their latest and earlier releases: from The Yardbirds classic, Over Under Sideways Down, through a storming take on Luke McDaniel's My Baby Don't Rock, to their own We Need Elvis Back. The pace slackened only occasionally, as on the Presley-esque Every Time I See You It Makes Me Smile. An enthusiastic crowd were soon singing along to the likes of Nervous Breakdown and, had room allowed, would've been bopping and jiving till the last of their encores. Moray Stuart
The Jokers
London Borderline
10/9/13
View: from the bar
Take a pinch of Deep Purple, wrap it up in Led Zeppelin, add a touch of Free, and a little bit of AC/DC, and you get a feel for one of Northwest's finest bands, The Jokers, who hit the stage with a Kapow! Bam! Four years of constant gigging with the likes of Hawkwind, Argent and Anvil has honed them into a hard-hitting classic rock band. Here, they concentrated on airing songs from their second album, Rock 'N' Roll Is Alive, with Silvercity, Radio and Dr Rock Head all melodic hard rock at its very best, while Head Above Water would suit Paul Rodgers down to the ground. Rock'n'roll is very much alive and well in the capable hands of this band. Noel Buckley
Live Photos
Rod Stewart
Liverpool Echo Arena
17/9/13
Photos: Steve Goudie
Exclusives
Blitzen Trapper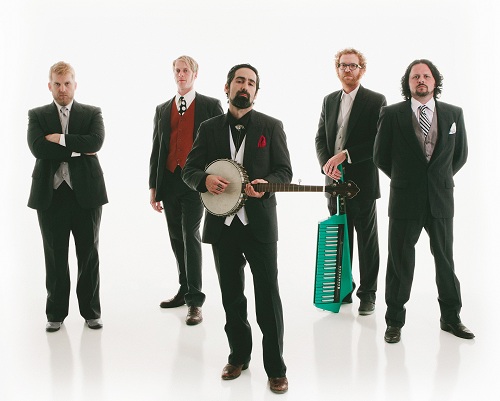 Photo: Robbie Augspurger
Blitzen Trapper's VII is out on CD, DL, LP via Lojinx, and RC asked frontman Eric Earley (centre), if it was a soundtrack, what film would it be for?
"The Outlaw Josey Wales, or Talladega Nights!"
Is there anything still unreleased?
Yeah, cassettes of high school bands with me and Mikey and B; knock-off grunge, noisy types.
Have you done anything fans may not know about?
A version of Yellow Brick Road for Radio Lab last year.
If you were to make a split 7", who would it be with?
K-Dot, UMO, or Waylon Jennings, circa 1975.
If you were to remix another artist, who would you do?
Shovels And Rope; boot-stomping, criminal-type rough stuff.
Where were you when you first heard one of your own songs on vinyl?
The basement of the Telegraph building on 6 and Ankeny in Portland.
What was your favourite record shop when you started out?
Ranch Records, Salem. I found a lot of REM vinyl there.
Did you ever write songs 'under the influence'?
Whiskey, pills and mushrooms, but those songs didn't end up on the records, usually.
What's the last album you bought?
Louvin Brothers.
Was anyone in your family a musician?
My father, mother, sisters, grandfather, uncles.
What would you ask your music hero?
Neil Young: If, at the race-track, he bets based on jockey status or horse wins?
What's the oddest place in which you've had inspiration for a song?
Deer hunting on 224 and getting closed in by fog in the truck, and trying to get down the twin rivers, when I wrote Thirsty Man in my mind.
Who's taken music forward in the decade?
Fleet Foxes, JT, Kendrick Lamar, MGMT, Cat Power.
Have you ever collected anyone?
Waylon Jennings, JJ Cale.
What record are you looking for?
Fela Kuti records.
Who would you like to cover one of your songs?
GZA, Black River Killer.
Which of your songs is the most personally meaningful?
Love The Way You Walk Away.
Of all the people you've worked with, who taught you the most?
Wilco or Brandi Carlisle, the way they work crowds.
What backstage incident makes you laugh most?
Our sound guy once kicked a crazy Icelandic chick off our bus; literally, in the chest. She fell on her back with her legs in the air, like a flipped turtle, too drunk to get up!
What fact about you may surprise fans?
I help produce gospel records for my church.
Who would you do in karaoke?
Led Zeppelin.
Which band would you most like to have been in?
Roy Ayers'.
Which question do you wish people would stop asking?
About our name.
Who would you most like to record with?
Prince.
What unfulfilled ambitions do you have?
I've written three books over the years and I'd like to publish a book.
Tim Gane
Photo: Cavern Of Anti-Matter's Tim Gane, left
Stereolab's frontman Tim Gane has returned with Cavern Of Anti-Matter's 500-copy Blood-drums LP, out via Germany's Grautag label. RC asked him, if it were a soundtrack, what type of film would it be?
"My approach was, in fact, influenced by the fact that I've recorded soundtracks (and I'm working on a fourth right now). Although there's no 'imaginary film', I did project myself into a dystopian future, which drastically affected my mind, way of working, and the sounds that you hear".
Is there anything still unreleased?
For Stereolab, nothing really, though some of the more obscure stuff will be compiled on a future Switched On. Enough for a double LP. We'll also soon begin remastering all of the Stereolab LPs, in order, from the original two-track tapes, and try to have a limited-run box set, finances permitting, as well as issuing them separately. We'll also try to have a separate disc of the four-track demos to all the songs on a particular LP, placed in order, and with a mini facsimile sleeve. Some have been lost or damaged, but they'll be replaced by something suitable from the same period.
Do you have tapes from school bands?
I used to have tapes of the first band that I was in at 13, The Natty Frogs. We did Buzzcocks covers and most of the first Clash LP, except Police And Thieves, because we couldn't play off-beat! We became Underground Bus, did a couple of demo tapes, then changed name to McCarthy.
Where were you when you first heard one of your songs on vinyl?
One of my main aims as a teenager was to get a record out before I was 18, and I achieved it when I put a minute of Chinese water torture onto a 7" EP released by Cause For Concern. I first played it in my bedroom. An intoxicating moment.
What was your favourite record shop?
Rough Trade, Notting Hill, London; the second single I ever purchased, in November 1978, was Swell Maps' Read About Seymour 7" and, later, Cabaret Voltaire Nag Nag Nag. In the early 80s, Recommended Records. I bought a lot of Sun Ra, Faust and Mutantes records.
What's the last album you bought?
Illitch 10 Suicides, Elemental Demdike Stare, Anna Meredith Black Prince Fury 12".
Your first record?
An MFP LP, Big Terror, by Geoff Love, and Buzzcocks' Love You More.
What's the oddest place in which you've had inspiration for a song?
In Spain, I saw a shop with massive letters in red: Margarine. That made quite an impression.
Who's taken music forward in the last decade?
Broadcast.
Have you ever collected anyone?
Throbbing Gristle, the band that inspired me the most.
What's your most prized record?
An original copy of their 2nd Annual Report.
What record are you looking for?
Mahogany Brain With (Junk-Saucepan) When (Spoon-Trigger).
Who would you do in karaoke?
The Shadows.
Which band would you most like to have been in?
ELP. GELP. Much better!