Letter of the month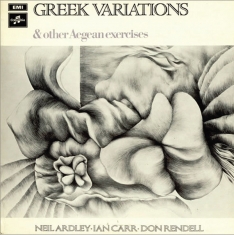 CARR LOT
I loved Ian Shirley's paean to the late Ian Carr in the excellent 400 collectables feature (RC 400). However, many more notable recordings featuring Carr could have been mentioned, had space permitted, such as the ultra-rare Hum Dono by Joe Harriott and Amancio D'Silva, Greek Variations with Carr, Don Rendell and Neil Ardley, and the New Jazz Orchestra's Le Dejeuner Sur L'Herbe, all commanding near-bankers' bonuses. He also made a superb one-off recording, Springboard, with the late Jeff Clyne under the name The Ian Carr-Jeff Clyne Quartet, which also featured John Stevens and Trevor Watts. His contributions to the late Michael Garrick's double LP box set Poetry And Jazz In Concert 250, and the double album Will Power, in which he shared composing duties with Neil Ardley, Mike Gibbs and Stan Tracey, were significant and memorable. And lest we forget, Ian Carr's masterwork Solar Plexus which was recorded with his ground breaking fusion band Nucleus with the addition of guest stars such as Kenny Wheeler and Harry Beckett.
Carr made several other important recordings, including ones with the Euro supergroup The United Jazz and Rock Ensemble (which also included fellow Brits Jon Hiseman and Barbara Thompson) – check out the best-selling jazz LP of all time in Germany, Live In Schutzenhaus, for proof. Having packed up touring in his late 60s, he was nevertheless contributing to recording sessions well into the 90s with bands such as No-Man.
His influence on the jazz world was immense and as Ian Shirley rightly said, Carr undoubtedly was one of the most important musicians Britain has produced. As such, maybe we could look forward to a special RC feature on the great man in a future issue?
by Roger Farbey, editor, www.iancarrsnucleus.net
<&lt Back to Issue 402