POP IDLE
They summed up much of the best of British psychedelia, enjoyed the support of industry faces, and boasted hit machine Jeff Lynne among their number. So how come The Idle Race failed? Nick James fleshes out the skeleton of their tale - in a roundabout way...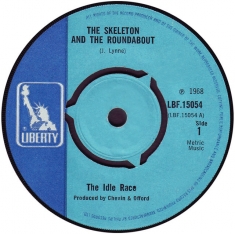 Unfairly dismissed by some as little more than a stopover on Jeff Lynne's road to ELO, Birmingham's Idle Race were so much more than that.
Championed by John Peel and described as "second only to The Beatles" by Kenny Everett, The Idle Race peddled a unique brand of very English psychedelia, releasing three albums and numerous singles but finding themselves forever unable to reflect those critical plaudits with record sales.
The Idle Race was forged in the mid-60s in what was then industrial heartland of England, fashioned from the core members of one of Birmingham's most popular beat acts, The Nightriders, a band fronted by Mike Sheridan and including, for a while, a pre- Move Roy Wood within their ranks. The departure of vocalist Sheridan, followed by Wood's replacement on lead guitar, Johnny Mann, left the three remaining members of the group with a gap that needed filling. Enter Jeff Lynne.
"Jeff had been a fan of The Nightriders," says Dave Pritchard, Idle Race's rhythm guitarist and founding member, "and he answered our ad for a lead guitarist. He was easy-going and very talented, so fitted the bill perfectly. Just what we were looking for."
Dave Pritchard had attended to rhythm guitar with The Nightriders since day one, and it was his determination to …
by Nick James
<&lt Back to Issue 404
You must be a subscriber to view the full article, subscribe now for full access to all online content.
Or, you can buy this issue directly from us. For the magazine
click here
Already a Magazine Subscriber? Register now for online access.