GREAT DAYS & MISSING YEARS
John Collis celebrates the career of JOHN PRINE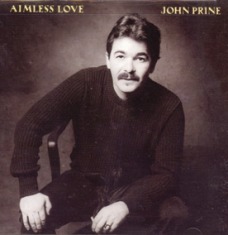 At the head of that aforementioned queue is a man who has only ever sounded like John Prine. He is one of the wittiest lyricists in rock music, whether he is being funny, sad, or both at the same time.
Prine was born on 10 October 1946, in Maywood, Illinois. "Maywood is a western suburb of Chicago, almost as old as the city itself," he says. "Mainly a steel town. My father and mother came up from Kentucky looking for work. I'm the third of four boys.
"By the way, it's not true to say that my grandfather played with Merle Travis. I've seen that in print many times. I guess once the mistake is made it gets repeated. My grandparents were from the same town as Merle, though.
"I went to Proviso High School. Late every day, and I could see the school clock from my room. I was too much of a dreamer. The teachers might as well have been barking like dogs for all I learned. Then Dave taught me the guitar when I was about fourteen. I didn't know he could play until then. He had taught himself the ukelele when he was away at college, and transferred the chords to the guitar fretboard. He saw that he'd gotten my attention, so he taught me a couple of chords. There were two records in particular i liked – one by The Carter Family and one by Elizabeth Cotten, who wrote Freight Train. She had …
by John Collis
<&lt Back to Issue 317
You must be a subscriber to view the full article, subscribe now for full access to all online content.
Or, you can buy this issue directly from us. For the magazine
click here
Already a Magazine Subscriber? Register now for online access.